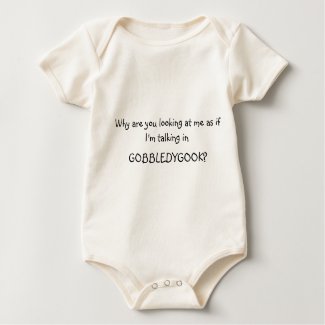 Gobbledygook is one of my favourite words because it captures the feeling of the definition so well! It's an onomatopoeic word describing language which is unclear and confusing, like a lot of of the impenetrable, bureaucratic jargon used in politics and law (a language affectionately known as govermentese and legalese).
So that's the definition and meaning of gobbledygook, but where does this funny word come from?
On March 30th in 1944, a man called Maury Maverick (who incidentally is the grandson of the guy after whom the term "maverick" was invented), coined the term gobbledygook. Maverick was working in the US government in the House of Representatives, and was involved in work for the Smaller War Plants Corporation, which was supporting the World War II effort. It was here, after becoming exasperated for the millionth time with the convoluted official-bureaucratic double-talk, that he sent a memo in which he wrote that gobbledygook should be banned and that "anyone using the words activation or implementation will be shot"!
Later he revealed his inspiration for coining the phrase gobbledygook was that the sound of all the jargon sounded a lot like the gobbling of turkeys in his home state of Texas!
He described the turkeys as "… always gobbledygobbling and strutting with ludicrous pomposity" much like many government officials and businessmen he worked alongside. The "gook" comes from the sound made at the end of the gobble by the turkeys.
Related articles
See other articles in the etymology category including:
- Cold Shoulder: Why do we say that we give the "Cold Shoulder" to someone?
- Jet Black: Why do we say something is "jet black"?
- Limelight: Why do we say someone is "in the limelight"?
- Love (tennis): Why do I say "love" instead of "zero" in tennis?
- OK: Why do I say "OK"? What does OK stand for?
- Pitch Black: Why do we say something is "pitch black"?
- Sleep Tight: Why do I say Sleep Tight?
Related products

Note:
This site is working in affiliation with Amazon.com (for USA visitors) and Zazzle. If you like a product that was recommended anywhere on this website, please consider buying these products via the links on this site, to help keep this website running. Thanks