It's very common to have blonde curls as a baby or a toddler, and as you get older, your natural hair colour is now a far darker brown or black. It also becomes coarser with age. Why does this happen?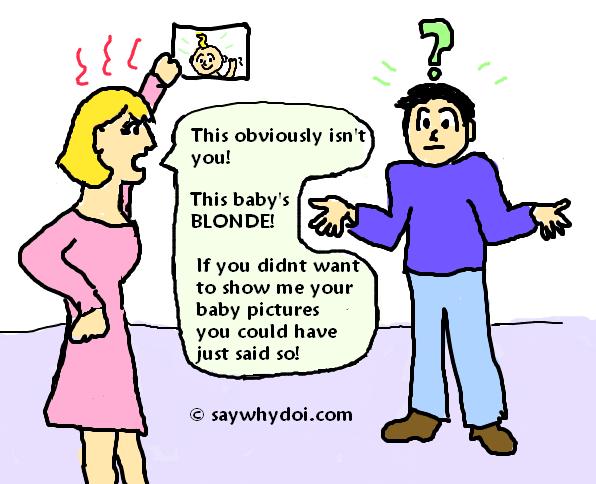 It's all down to the fact that there are several different chemicals in our body that are responsible for our hair colour. They are all within a category of compounds called "melanins".
The predominant melanins responsible for hair colour are:
Eumelanin, of which there are two types:
- black eumelanin: giving black hair
- brown eumelanin: giving dark hair, usually brunette
Pheomelanin: giving red hair
People usually have a mix of these pigments in their hair, although usually one is the dominant one.
Black eumelanin and pheomelanin are usually expressed fully from birth, which explains babies born with black or red hair. Babies born with blonde hair have little, if any black eumelanin. Blonde babies could however have brown eumelanin.
People with genes that code predominantly for brown eumelanin are the ones whose hair is most likely to darken with age. This is because although they have the genes coding for brown eumelanin production from birth, these genes are not expressed to their full potential in early life.
This means that a baby could be born a blonde or a redhead (depending on the amount of pheomelanin), but with age, brown eumelanin starts to be expressed, darkening the hair. Increasing expression of pigment is linked to increasing coarseness of hair. It is a fact that blondes have softer hair than brunettes.
A 1975 study by Matheny & Dolan suggested that *when* hair begins to darken may vary between people, depending on their genetics.
The onset of brown eumelanin expression may be linked to the increased production of hormones towards puberty. Whilst it is hypothesized that there is a strong link between hair colour darkening and hormone levels, I have not yet found the answer explaining exactly how this works in my research.
As to why brown eumelanin isn't expressed from birth, I hypothesize that it may have been advantageous for babies to stand out from adults in some visual way, to make it easier to keep them in sight at an age when they need a lot of supervision.
Related Products

Note:
This site is working in affiliation with Amazon.com (for USA visitors) and Zazzle. If you like a product that was recommended anywhere on this website, please consider buying these products via the links on this site, to help keep this website running. Thanks