Our society is made up of people who are perceived as high status, and people who are perceived as having lower status. A more popular name for a high status individual is an "alpha male" or "alpha female". Why do some people exude high status whilst others exude low status?
First of all, let's be clear on what we mean by "status"
Status as a concept refers to how valuable a person is seen to be in society.
High social status implies a person is valuable and dominant in their role in society, often taking on the role of leaders. They are led by a need to dominate. These are the stereotypical alpha males or females. Note that high status is not synonymous with "good".
A low social status person has an air of being more dispensable in their social role, although often they play important supporting roles in society. They are led by a need to survive. These are the stereotypical beta and omega males or females. Note that low status is not synonymous with "bad".
Internal vs External Status
There are two important levels of status: internal status, and external status. Both of these affect the way we feel and behave in society.
Internal status is your personality-driven, inborn tendency of behaviour. "Inner game" affects internal status. It's affected by how valuable you feel, and how confident you are in yourself, regardless of external factors.
External status is determined by things like your job, wealth, qualifications and other external things which can affect how valuable you appear to society.
It's the internal status that really matters.
What status am I?
The best way to tell what internal status you have is by looking closely at how you interact with others in terms of body language and vocal expression.
Some people are very good at putting on an act of high status when inside they feel low status. For such people, the best way to tell your true status is by seeing your body language and vocal expression when you are under stress or pressure, because that's when instinctual responses kick in, revealing your deeply engraved internal status.
Body language gestures that give away your status
Most people are unaware of the constant displays of dominance and submission around them, but once you start looking out for them, you see them everywhere!
Note that people are hardly ever "pure" types, so you may only have some features of one status and some of the other. The type you have most in common with is your status type.
Low status:
High status:
General feeling of the body language
Closed, taking up as little space as possible, so as not to threaten others. Although they don't take up this pose literally, their general body language is based on the fear-crouch reflex which involves curling up into a ball in order to protect your organs and arteries in the event you are attacked. Their natural tendency is to take on defended body positions, and to be slightly anxious, especially in times of panic.
Open, taking up as much space as needed. They aren't concerned about appearing threatening because they know they can handle whatever comes their way. Their body language can be summed up by one word: Relaxed. Never appearing tense or afraid, even in times of panic.
Head position
Like the fear-crouch reflex, the head has a tendency to be tilted forward to protect the neck from attack. This can lead to stooped postures and an inclination to bow your head and look down a lot.
Head straight-facing, with the chin-up, unafraid of  exposing the neck to attack because they know they can handle it.
Head movement
Head nodding is common during conversation as an attempt to please others and seem agreeable.
In conversation, the head is still and there is minimal nodding in response. They are confident enough without having to please others.
Face
Smiling often, (aka "fear face") to please and say they are not a threat.
Relaxed face. They don't have a need to smile often as they don't need to please anyone to gain status.
Eyes
Short eye contact, often followed by checking to see if the person is still looking at them is a low status sign. This checking behaviour is an important survival instinct when you fear attack. This is why it's so common amongst prey animals like mice and other small mammals.

Blinking rapidly is also a sign of nervousness/ fear and low status.

Longer eye contact is found amongst high status people. They don't having the checking behaviour of the low status people, because they don't fear attack.

Slow blink rate is standard amongst high status folk.

You know the staring game when the first person to look away loses? Effectively, the first person to look away has lower status.

Mouth
Touching your mouth or chewing a fingernail
Relaxed mouth. No face touching
Shoulders
Turned in: rounded and forwards
Turned out: Rolled out and back
Chest
Closed body language doesn't emphasise chest
Chest is wide and proud
Back
May be slightly bent over/ stooped
Straight backed with exposed neck.
Hands/ Fingers
Fidgety, face-touching often,
If sitting, rolled out shoulders result in relaxed hands on thighs with the palms up.
Legs
Legs are close together, taking up little space. If sitting on the floor, legs are bent up to the chest to protect your body organs
Legs spread wide apart with feet flat on the floor. You take up more space.
Feet
Turn your toes inwards (pigeon toes)
Feet firmly planted in ground, and straight
Symmetry
Someone who is feeling defensive and submissive will sit in a symmetrical position. One side of their body is a perfect mirror image of the other side. They display tense muscle tone and look as if they expect to be attacked.
A person who is feeling defensive and dominant will take an asymmetrical pose, so one side of the body doesn't mirror the other.
Facing people
They may face people side on ie sit or stand with the body facing one way, but the head pointing towards the person they are addressing. This is a way of appearing less confrontational and threatening.
They tend to face people front-on, unafraid of this being seen as a threat.
Movement
Fidgety, jerky movements

When they walk, strides vary from small steps, to tense steps, to tentative steps.

Smooth movements

When they walk, they may take relaxed, confident strides.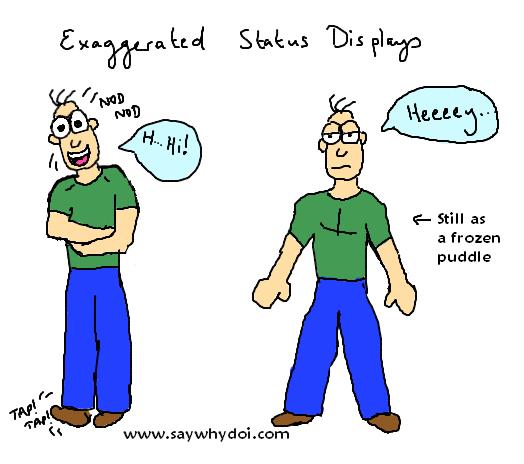 How ways of speaking can give away your status:
Low status Speech:
Fast speech: Like many prey animals that move quickly, low status people speak quickly. It's as if they have to get the words out quickly before someone with a higher status interrupts them and they have to give up their speech to them. Speaking fast makes them talk in a way that may seem jerky, clipped and not fully thought-out, so they can have a lot of hesitations, ums, ers and uhs, stammering, stuttering and changes of direction in the flow of speech with phrases like "I mean.." and incomplete sentences. They tend to speak in short bursts. Vowels are very short, in line with the fast speech. Eg "ah" and "um" as opposed to "aaaaah" and "uuuuuum". Apologising often is common as they don't want to appear a threat in any way. If interrupted, they give in and let the interruptor take over their conversation. Inflection of voice may have a tendency to rise at the end of a sentence so much of what they say may sound like questions – as if asking permission for their thoughts to be heard. They may often question "is that ok?" rather than deciding things for themselves. They may have a tendency to speak softly so as not to appear threatening.
High status speech:
Speak slowly; taking their time. It's as if they know that what they are saying is worthwhile and their thoughts deserve adequate space to be thought-out and expressed properly. They make longer vowel sounds; (ie aaaaaah, uuuuum as opposed to ah and um). They may often speak loudly and raise their voice because they aren't concerned with sounding threatening. They can meet any threat that comes their way in response.
OK, I think I know what status I am now… But *why* do I have High or Low Status?
There are 2 main factors which determine status:
1.) Inborn Status aka Personality-linked Status
Actor Alan Marriott, who is well-versed in observing and re-enacting status through body language, described how he observed the first signs of status as they arose in his children after they were born. He noticed that within weeks of birth, his children already showed signs of a tendency to be either high or low status, and this tendency was most apparent in times of stress or pressure. He observed that high-status-born babies are more relaxed and calm, whilst lower-status-born babies tend to be more anxious. These tendencies noted in babyhood were found to be retained throughout his children's lives.
2.) Conditioned Status
Although we may have an inborn tendency to lean towards one status or another, the way we are brought up conditions us to modify our internal status.
Children who are constantly reprimanded and put down are being conditioned to have lower statuses (although if their inborn status is high and strong, this conditioning does not have to have a strong negative impact). Similarly, children who are encouraged and told how wonderful and talented they are, are being conditioned to raise their internal status.
Conditioned status is also affected by external factors such as:
Ascribed Status factors: These include factors like your family name, wealth, class, gender, race, caste, religion, or political status.
Achievement-linked Status: This is determined by factors like education, job, acquired wealth, acquired strength, expressions of beauty such as through taste in clothes, social achievements, marital status, and amount of power or prestige.
It's really important to remember that it's the internal status that counts, not the external one. A cleaner is just as likely to have high status as a King and it is very possible that a King could have low inborn status.
Always remember that one status is not better than another
Although it may seem like high status is better than low status, it isn't. If our tendency towards one status or another is genetic, and both genotypes survived to this day, then this implies that both high and low status are effective survival strategies.
In fact, high status is a more risky way of being than the low status strategy, because high status people can provoke one another into attacks. Ever see the nature shows where animals fight over the alpha position? The results aren't pretty.
Low status doesn't condemn you to being a weakling or insecure. It is possible to be low status and simultaneously confident in your self-worth and value, even if you don't seek out to be a dominating leader.
Related Products

Note:
This site is working in affiliation with Amazon.com (for USA visitors) and zazzle. If you like a product that was recommended anywhere on this website, please consider buying these products via the links on this site, to help keep this website running. Thanks