Ever felt seemingly inexplicable changes in your energy levels or mood at different hours of the day? There are many factors which can affect energy levels and mood. Sugar levels, hormone and brain chemical fluctuations all contribute to energy and mood. Chinese Medicine has a different approach to explaining these shifts. It explains it using the Chinese Body Clock.
Traditional Chinese Medicine (TCM) believes that each body Organ is linked to specific hours of the day when it is at its "peak". Peak time of an Organ happens when Qi energy is flowing through the meridian that affects that particular Organ.
It is important to note that TCM Organs are not the same as the Western organs we think of in Western Medicine. The TCM Organs were described based on years of observation and practical experience, rather than based on iron-clad science, and therefore the functions that TCM researchers ascribed to each Organ differ from those we'd expect of the same Western organ. TCM researchers also linked certain emotions to each Organ. These specific emotions can hinder or aid a certain organ's function.
The Chinese Body Clock theory teaches that energy (Qi) has its "peak flow time" through each organ-linked meridian for a duration of two hours in each 24-hour cycle. For those two hours, that one meridian dominates the body physically and emotionally.
What Organs and Emotions do the Chinese associate with each Hour of the day?
5am – 7am : Large Intestine Time
5am-7am is when Blood and Qi flow concentrates in the Large Intestines. The Large Intestine is responsible for helping us create our bowel movements. So perhaps it is not surprising that many people move their bowel first thing in the morning during the TCM-optimal time for it.
According to TCM, it is beneficial to train your gut to have morning regularity because the fact that this is peak Large Intestine time makes this a fantastic time for efficient elimination of wastes.
Emotions that are linked to the Large Intestine are "feeling stuck", or a more general "grief" which can be embodied as constipation.
If you feel serene and at peace at this time, perhaps this signifies that you have no current problems with grief or feeling stuck, whereas if you find yourself grumpy at such hours, perhaps this indicates that you are grieving about something or frustrated regarding feeling stuck about something in your life at the moment.
7am – 9am : Stomach Time
As this is the peak Stomach time, digestive function is optimal at this time. So this is the perfect time of day to eat your breakfast.
The Stomach is linked to the emotion of worry. Any significant physical or emotional changes you're aware of at this time may relate to this Stomach-linked emotion and to digestive function.
9am – 11am : Spleen Time
The TCM Spleen is considered to be the most important digestive organ in Chinese Medicine. It carries out digestion of breakfast at this time, so if you're running a bit late and having breakfast at these hours, it's still a TCM-approved time to eat.
Like the Stomach, the Spleen is linked to the emotion of worry, overwork, overthinking and general excessive mental exertion.
Any physical problems at this hour, particularly problems in digestion, can relate to these emotional factors. In fact any digestion problems at any time of the day may potentially relate to these Spleen emotions according to TCM theory.
11am – 1pm : Heart Time
The emotions of the Heart are joy, enthusiasm and restfulness. This means that according to TCM, the Heart is made stronger with these emotions, and is hindered by their opposites. Any physical problem at this time, such as aches or pains, or energy dips, may be linked with blockages in feeling your Heart's full Joy.
The TCM Heart has an aversion to Heat. It is interesting therefore that in many hot Mediterranean countries a siesta is taken at these hours. It's as if they are in tune with the TCM Heart's natural inclination to avoid the Heat. For the same reason of avoiding Heat, TCM indicates that going for a heat-inducing-run during Heart hours is not recommended for optimal Heart health.
1pm – 3pm : Small Intestine Time
Small Intestine Time is a brilliant time to eat lunch.
The emotion linked with the Small Intestine is also Joy.
3pm – 5pm : Bladder Time
The Bladder is linked to Fear. Physical signs and symptoms at this time could relate to this emotion.
Salty foods strengthen the Bladder, so drinking a cup of savoury miso soup would be beneficial at this time.
5pm – 7pm : Kidney Time
The Kidney is the body Organ most strongly linked to Fear. Not only are physical manifestations at these times possibly related to Fear, but also it is best avoiding things like horror movies at this time because it can weaken the Kidney.
The Kidney is also closely linked with willpower, security, feelings of aloofness and isolation. So any signs and symptoms popping up at these hours could have something to do with these Kidney emotions.
Like the Bladder, the Kidney is also strengthened by salty foods.
7pm – 9pm : Pericardium Time
Some sources associate this time with good circulation and peak reproductive function.
Since the Pericardium is closely linked to the Heart, its associated emotion is also Joy. Physical changes and changes in well-being at these hours may therefore reflect your state of Joy.
9pm – 11pm : Triple Warmer Time
This organ is also linked to Joy.
11pm – 1am : Gall Bladder Time
The Gall Bladder is linked to Courage and the use of wise judgment. Signs and symptoms arising at these hours can relate to problems with making decisions, (e.g. indecision or making rash decisions), shyness and timidity.
1 am – 3 am: Liver Time
Since the Gall Bladder runs along a similar meridian to the Liver meridian, technically, from 11pm Liver activity begins to be active, peaking between 1-3 am.
The Liver is important in detoxifying body toxins and according to TCM, it also detoxifies our emotions. The emotion linked most strongly to the Liver is Anger, although frustration, bitterness and resentment are closely linked to it too. It's a good idea to be asleep at these hours to allow maximal energy to be diverted for detoxification. This explains why an early night's sleep is congruent with a healthy body and mind.
Interestingly, if you find yourself waking up at 1am-3am during Liver time, or in the event that you're still awake, if you feel a change in state at these hours, it may be linked to latent anger or frustration which are overwhelming the Liver as it tries to detoxify these emotions at these hours.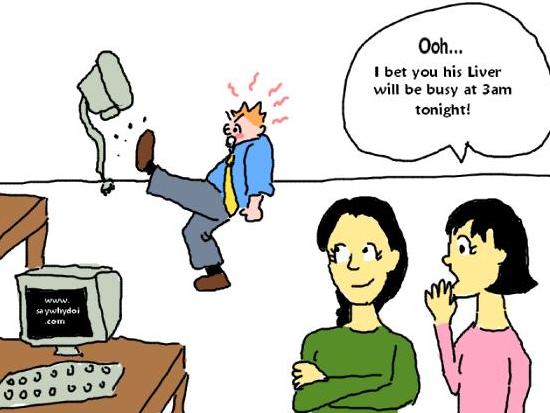 3am – 5am: Lung Time
This is the best time for the Lungs to recharge if you want to make sure that you will have strong breath to talk and to have energy for the day ahead.
The Lungs govern the voice, respiratory system, the sweat, skin health and immune system health, so recharging the Lungs with sleep is particularly important if you have issues with any of these areas.
If you find yourself waking for no apparent reason at these Lung hours, it is often linked to Grief the main Lung emotion. Similarly, if you're already awake and experience sudden changes in energy or well-being, it may well be related to Grief and detachment. It is not uncommon to feel grief and/or detachment at these hours. Feeling serene at these hours could indicate lack of problems in these areas. It could also indicate having strong Lungs and a strong voice in life in general.
- – -
The Chinese Body Clock's way of looking at the human body often sounds strange and illogical to Western ears, but it's fascinating how often it's theories seem to fit with how we feel and function. I think it's an interesting point to consider that in spite of its less-than-scientific ways, Chinese Medicine, which dates back to around 350 BC, has been retained for many, many centuries. Isn't it a legitimate consideration to wonder whether there is good reason that Chinese Medicine's lessons have survived all these years?
Related Products

Note:
This site is working in affiliation with Amazon.com (for USA visitors) and zazzle.com. If you like a product that was recommended anywhere on this website, please consider buying these products via the links on this site, to help keep this website running. Thanks