Many of us find ourselves wriggling while we work, squirming in our seats and fiddling with our fingers. There are 1001 different ways to fidget. You might bounce your leg up and down, or play with your hair. You might find yourself nibbling or examining your fingernails, picking your nose, chewing or sucking your pen, pen spinning, pen clicking, finger tapping, handling cigarettes, doodling, or touching whatever happens to be in front of you, or whatever happens to be on you (a piece of jewellery, a watch, your clothes). It could even be argued that listening to music whilst working is a form of "auditory fidgeting" and that chewing gum is a form of fidgeting for your mouth! Why do we develop all these ways to fidget? Why do people fidget?
Reason 1: Fidgeting as a displacement behaviour
The most common reason for fidgeting is "displacement". What I mean by this is that the fidget is an expression that is displacing, or taking the place of an emotion which you have but are unable to express directly.
Although many of us have a baseline level of fidgeting in normal situations, the frequency of fidgeting shoots up when we are excited, anxious, self-conscious, stressed, fearful, angry, frustrated, impatient or bored.
Case in point: Before boarding a plane, a slightly exciting and potentially stressful time for many of us, people often find themselves repeatedly checking that they have all their belongings, and fiddling with their ticket, passport or whatever might be at hand. This fidgeting helps to displace some of that anxious energy, and dissipates it through various body movements and actions.
Another good example is before an important interview or at social gatherings. Unless you're extremely high status, or emotionally detached, it's natural for us to have a small degree of social anxiety in situations where we want to make a good impression on others and when it's important for us to be liked. In social gatherings, fidgeting is rife. People occupy their hands with food, glasses, cigarettes, smoothing down their clothes and hair, face touching, and many other techniques. These are all little outlets of emotional tension.
In children, especially ADHD-type children, they might find themselves squirming in their seat, rummaging around pencilcases, rifling through papers and carrying out other distracting behaviours. For some children who are diagnosed with ADHD, fidgeting may be a displacement behaviour for boredom, frustration or another emotion. Fidgeting may be correlated with problems at home, or in their social life. It  may also be related to frustration from a physical problem, like being unable to hear properly or finding it difficult to verbally express their needs efficiently. It is interesting that otitis media, an ear infection that affects hearing, is strongly linked to some cases of ADHD.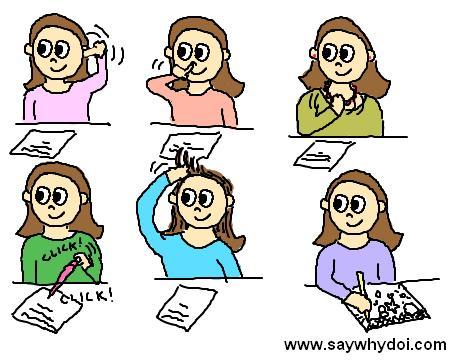 It may also be argued that OCD-type fidgeting, like repeatedly straightening out or cleaning objects in front of them, or switching lights on/off repeatedly, may sometimes be a displacement behaviour for another underlying issue.
At other times the nature of the fidget may reveal what the underlying emotion which you are suppressing actually is. For example an agitated pulling at a marriage ring may potentially indicate marital distress, and constant self-grooming fidgets may be linked with self-consciousness and insecurities about appearance.
Interestingly, many people, particularly ADD and ADHD sufferers, report that fidgeting helps them concentrate and focus. This may be because it helps relieve the restless energy within them, which is so distracting. However, it does make me wonder: if the underlying cause behind the restlessness was addressed, would they still need to fidget?
Reason 2: Fidgeting to comfort ourselves
Different fidgets have different purposes. Whilst some are pure displaced expressions of an emotion, for example, rapid and urgent pen-clicking may be associated with impatience, and fingernail chewing may be linked with "eating yourself up" over something, other fidgets are less "displaced emotions" and more "self-comforting" actions.
Self-comforting actions are the fidgets that involve self-stroking, for example stroking our hair or beard, and caressing areas of our face, neck, arms, legs or elsewhere on our body.
A fidget which involves us placing our hands in front of us, for example fiddling with a wineglass or bag that's in front of your body, is also a form of self-comfort. It is comforting because having something in front of us acts like a shield, so that we feel better protected from anything around us. The crossed arm shield is a non-fidget-related shield which acts in much the same way. Any fidget where you find yourself having an arm crossing your body in a half-crossed-arms pose (for example when adjusting a cufflink, a watch or a bracelet), is often a comforting, protective fidget.
Reason 3: Excess energy
Whether excess energy is caused by having one too many cups of coffee, too much sugar, or some other kind of stimulant, fidgeting may be the by-product of excess energy. As the Law of Thermodynamics states: Energy cannot be created or destroyed, it can only be transferred. The energy has to go somewhere, and if you are unable to start cartwheeling ecstatically through the room, it may express itself as fidgeting.
People who have a more excitable, high energy temperament may be more prone to fidgeting. In Traditional Chinese Medicine these may be people with abundant Jing and overflowing Qi.
Reason 4: Attention-seeking
It depends what the fidget is, but sometimes, a fidget may be a cry for attention. This is especially true in children who are joyful when a teacher or parent finally speaks to them, if only to say: "Stop fidgeting!"
Reason 5: Medical predispositions for fidgeting
Some medical conditions increase the likelihood of fidgeting. These include:
Blood sugar imbalances: Sugar highs may see excess energy expressed through fidgeting. Sugar lows could be accompanied with frustration about tiredness which comes through as fidgets too. Hypothyroidism is a bit like low-sugar-levels in that it is accompanied with frustrating amounts of tiredness at times.
Hormonal changes: For example:
- Elevated testosterone may increase aggressiveness, which may be displaced into agitated, impatient fidgets.
- Hyperthyroidism comes with a feeling of excess nervous energy which may manifest as an increased need for movement and activity.
Brain chemical imbalances: These may be linked with increased internal tensions which may be expressed through fidgeting.
Medication-caused imbalances in the body
Useful Fidgets?
Several studies have revealed benefits to fidgeting. Not only does it relieve internal emotional tension, but as mentioned above, it can also help people focus and concentrate better on the task at hand, and all that extra activity may even help you lose weight!
Although these seem useful at first glance, upon further inspection, perhaps there's more to it. Often, fidgeting is ultimately caused by an underlying negative, unhealthy origin, so can the side-effect of something negative ever really be good for you? Is it good for you to lose weight because you have so much nervous energy that you are burning calories from all this stress? Or is it good for you to focus better only because your fidgeting takes your mind off unresolved issues which are bothering you?  I think it would be far healthier to achieve focus by solving the underlying cause behind your internal conflict, and lose weight by addressing the issues driving your weight gain, rather than by fidgeting. That's just my opinion though!
However, until underlying issues can be resolved, if you must fidget, how about taking up a fidget like knitting, sewing, drawing or whittling and fidget productively?

Related Products

Note:
This site is working in affiliation with Amazon.com and Zazzle. If you like a product that was recommended anywhere on this website, please consider buying these products via the links on this site, to help keep this website running. Thanks