Why do we put up Christmas wreaths when the festive season comes round?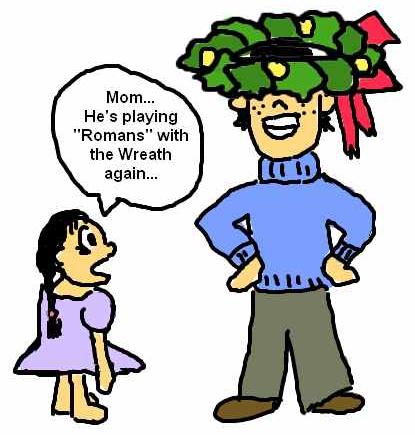 There are two main reasons why we put up Christmas wreaths:
1.) Because of what the wreath symbolizes
2.) Because of the ongoing tradition of putting wreaths up every Christmas
Let's look at these in a little more detail:
What does the wreath symbolize?

A wreath is circular, a never-ending shape: so it's easy to see how it represents the eternity and immortality of Jesus.
The fact that evergreen leaves are used is also to do with a symbol of eternal life. It represents that life goes on even in the coldest depths of winter!
How did the tradition of putting up a wreath begin?
It is likely that the tradition of putting up wreaths around December time existed in Roman times, even before the rise of Christianity. But why would Romans be putting up wreaths if it wasn't to symbolise Jesus' eternal nature?
If we think about the Romans, we often picture a proudly standing Emperor with a wreath on his head. Wreath crowns were used to symbolize honor to the wearer. So Emperors as well as anyone victorious in politics, wars or games could be adorned with a wreath crown. But wreaths weren't only used to decorate people's heads in Roman times.
Wreath-like greenery was also used to decorate the homes in the Roman Winter Solstice festival of Saturnalia which was celebrated on December 17th-23rd. It may be that this tradition of Saturnalia infiltrated Christmas traditions.  Click here to read more about the Roman Winter Solitice overlap with Christmas traditions.
Related Products

Note:
This site is working in affiliation with Amazon.com (for USA visitors) and zazzle. If you like a product that was recommended anywhere on this website, please consider buying these products via the links on this site, to help keep this website running. Thanks