I'm a strong believer that every part of your body gives you clues about what's going on inside, and the nails are no exception. The state of your nails could well-reflect the state of your health. Medical study has observed significant correlations between certain nail signs and specific health conditions which makes nail diagnosis a useful tool to help us better understand what's going on in our bodies.
Nail beading is one such sign which can be informative about your health. What is nail beading? and what does it reveal about you?
What is nail beading?
Nail beading is when your nail appears to have little balls or beads forming a line down your nail. It looks as if a bit of wax has dripped on your nail leaving a trail of wax droplets behind.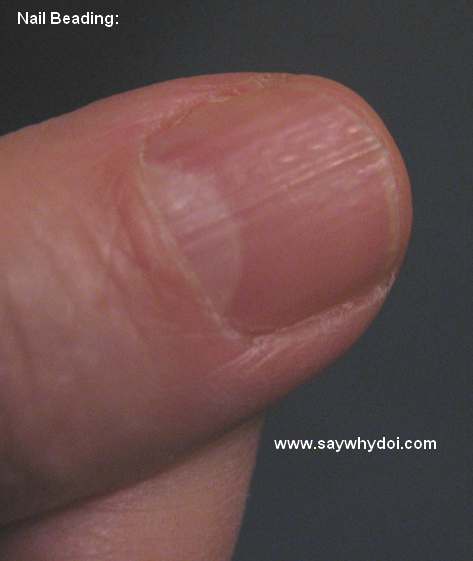 What does nail beading say about your health?
From observational studies, it seems that nail beading primarily indicates a hormonal imbalance in the body. The type of hormonal imbalance may vary. It may indicate:
Thyroid disorders: Imbalances in thyroid hormones is one of the most commonly seen conditionsf with nail beading. The thyroid disorder may be hypothyroidism, thyrotoxicosis or other thyroid problems.
Diabetes mellitus: Diabetes arises from problems with the hormone insulin, and this is sometimes seen in people with nail beading.
Addison's disease: Beading of the nails is sometimes seen in the rare hormonal disorder, Addison's disease, in which the adrenal glands have problems producing steroid hormones like cortisol and aldosterone, meaning that these hormones become deficient.
As well as these hormonal disorders, nail beading has also been thought to be potentially associated with:
B vitamin deficiency
Blood flow changes to the nail
Rheumatoid arthritis: In the case of nail beading being a sign of Rheumatoid Arthritis however, a 1985 study by Grant and his coworkers says: "The positive predictive value of these configurations is in the order of 95%. Nail beading, however, is infrequent in early disease and therefore its diagnostic value is limited." (Grant et al. 1985. Statistical reappraisal of the clinical significance of nail beading in rheumatoid arthritis. Ann Rheum Dis;44:671-675)
Note that usually the condition causing nail beading would most likely be one of the above rather than more than one.
Although it is not well-understood *why* nail beading indicates these things about your health, the association between nail beading and these conditions is derived from observational studies, where it was noticed that nail beading was the common factor among patients with these conditions.
Diagnosis should never be made based on nail diagnosis alone and if you suspect nail beading is present, it is advised to consult with a naturopathic practitioner who will send you for tests to determine the exact cause of nail beading in your specific case.
Related Products

Disclaimer:
Every effort has been made to ensure that the information contained in this article is accurate. However the information contained in this article is for educational purposes only. Suggestions contained in this article are not intended as a substitute for consultation with a health professional. All matters regarding health and supplementation require medical supervision and careful examination of contraindications. The author does not accept responsibility for the use of this information, nor shall the author be liable for any loss, injury or damage allegedly arising from any information or suggestions in this article.